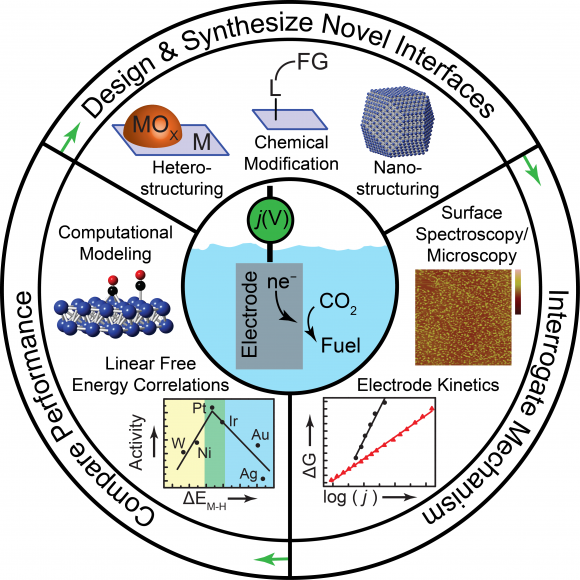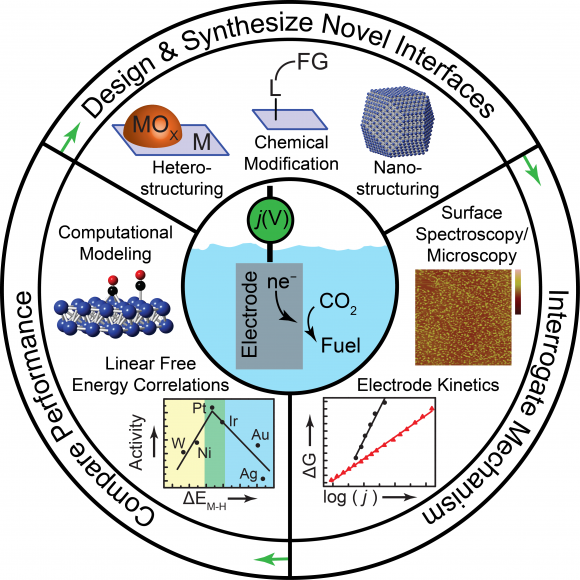 Research in the Surendranath Group focuses on the investigation and manipulation of chemical reactions occurring at solid-liquid interfaces. In particular, the Group aims to use electricity to rearrange chemical bonds by controlling interfacial reactivity at the molecular level. The chemistry of these interfaces is at the heart of nearly all contemporary challenges in renewable energy storage and utilization in a wide variety of devices ranging from batteries, to fuel cells, to electrolyzers and, therefore, addressing these challenges is essential for enabling a low-carbon energy future.
The macroscopic, device-scale, properties of any electrode are dictated principally by the individual elementary charge transfer reactions that occur at the solid-liquid interface. Thus, the development of next-generation devices for renewable energy storage and utilization requires strategies for understanding and manipulating these elementary charge transfer reactions at the level of atoms and molecules. The cycle of research in the group follows the following general trajectory: (1) novel interfacial structures are synthesized using tunable methods (2) the mechanisms of interfacial reactions are probed in detail to identify the efficiency limiting steps (3) the performance of each designer interface is evaluated and compared to identify new design principles for iterative optimization. This approach distinguishes itself from traditional methods for improving electrode performance that rely principally on trial and error.
---
Graphite-Conjugated Catalysis
---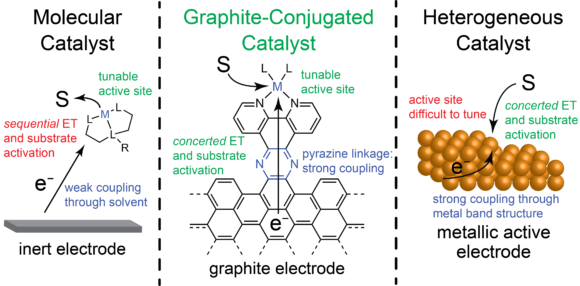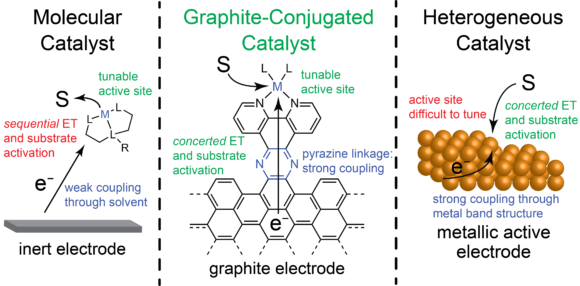 All artificial energy conversion catalysts fall into two broad categories: heterogeneous and molecular. Heterogeneous electrocatalysts are typically metallic extended solids that bind and transform substrates at surface-exposed active sites. The delocalized band structures of metallic solids and the strong coupling between these band states and surface active sites ensures that electron transfer is concerted with substrate binding and activation (above, right), enabling more efficient catalysis. However, metal electrode surfaces are inherently dynamic, displaying a distribution of surface structures that are recalcitrant to systematic modification to tune catalytic efficiency and/or selectivity. In contrast, for molecular catalysts, the local bonding environment around the metal active site can be tuned synthetically, enabling exquisite control over the energy landscape of a reaction. However, molecular catalysts display localized electronic states that are decoupled from the electrode surface leading, in most cases, to step-wise electron transfer and substrate activation (above, left) that proceeds through a thermodynamically unfavorable intermediate. By exploiting the native surface chemistry of carbon, we have developed a versatile new class of graphite-conjugated catalysts (GCCs) that feature a conjugated pyrazine linkage between a molecular fragment and the band states of graphite (above, middle).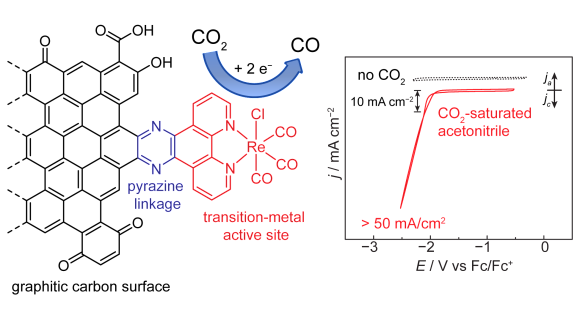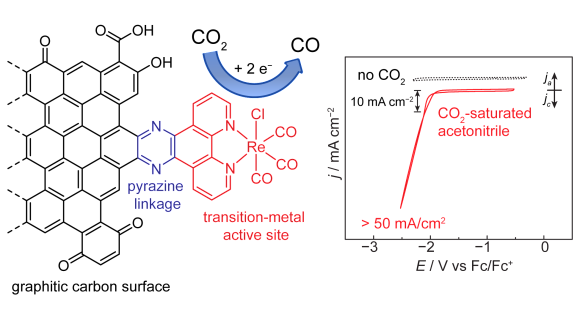 The strong coupling afforded by this linkage simultaneously permits synthetic tunability of and concerted electron flow to interfacial active sites. We have shown that GCCs are active catalysts for the reduction of molecular oxygen, a key reaction in fuel cells, and that their activity can be modulated systematically by varying the substitution pattern of the appended unit. By synthesizing GCCs containing transition metal centers, we have developed highly active and selective heterogeneous catalysts for the reduction of carbon dioxide to carbon monoxide (left). We are currently investigating the mechanisms of inner-sphere charge transfer at these unique molecular interfaces and developing tailored GCCs for a wide variety of electrochemical and thermal reactions.
---
Mechanism-Guided Design of CO2-to-Fuels Catalysts
---


The selective and efficient reduction of carbon dioxide to liquid fuels would permit the closing of the anthropogenic carbon cycle for the first time. However, current catalysts for these reactions are far too inefficient and unselective to permit carbon dioxide utilization on a global scale. Progress in this field has been stymied by a lack of systematic catalyst design principles and a poor mechanistic understanding of the processes that control product selectivity. Through a combination of mechanistic and in situ spectroscopic investigations, we have uncovered the key kinetic branch points that determine the selectivity of carbon dioxide-to-fuels conversion relative to undesirable hydrogen production (above). In particular, we have shown that reaction selectivity depends critically on how electrons and protons couple at the interface to form one fuel over another.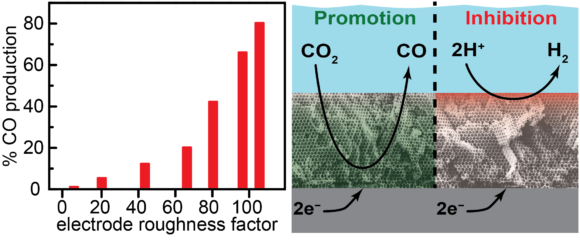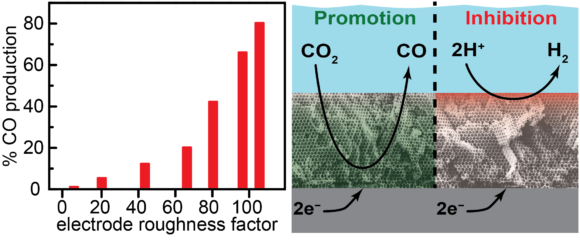 These insights led us to postulate, counter-intuitively, that systematically attenuating proton flow to the interface would lead to dramatically improved electrocatalytic performance. To achieve this, we developed a new class of carbon dioxide to fuels catalysts that consist of a uniform array of interconnected pores (left). By tuning the mesostructure of these porous catalysts, we are able to systematically vary the selectivity and efficiency of fuel production from carbon dioxide. We currently investigating how carbon monoxide is activated at electrode surfaces en route to higher order liquid fuel products and developing strategies for tuning catalyst surface structure and mesostructure simultaneously.
---
Earth-Abundant Catalysts for Oxygen Reduction
---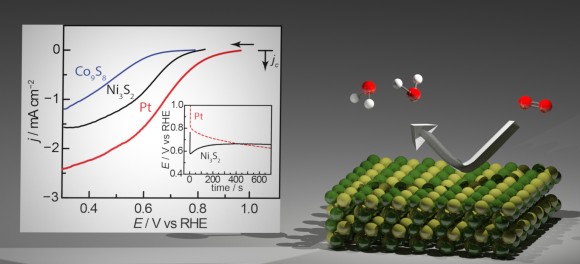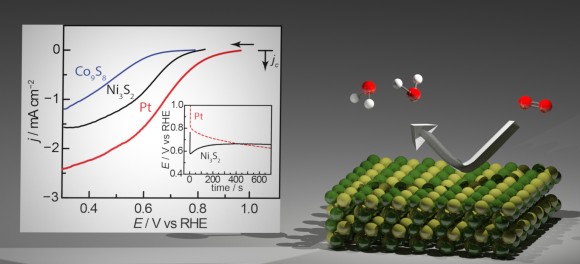 The four-electron, four-proton reduction of molecular oxygen to water is the efficiency limiting reaction in low-temperature fuel cells. Currently, expensive and scarce platinum-based catalysts are required to carry out this reaction, impeding widespread deployment of fuel cell technologies for automotive and portable power applications. We have developed a variety of low-cost earth-abundant transition metal-sulfide-based catalysts for this reaction. In particular, we have identified the haezlewoodite phase of nickel sulfide, Ni3S2 as a potent catalyst for oxygen reduction in benign neutral pH electrolytes (left). These metal sulfide catalysts are selective for oxygen reduction even in the presence of common fuels and resist poisoning by common electrolyte ions, making them particularly attractive or membrane-free mix-reactant fuels cell technologies. We are currently investigating the mechanisms of oxygen reduction catalysis by these materials and using these insights to develop improved catalysts that retain high selectivity.
---
Hypothesis-driven synthesis and rigorous physical characterization provide the basis for catalyst discovery and optimization. Students and postdoctoral scholars gain expertise in modern methods for the synthesis of inorganic coordination compounds, thin films, nanocrystals, and organic ligands. We employ a range of characterization tools including TEM, SEM, AFM, XPS, UV-Vis, IR, NMR etc. with a particular emphasis on electrochemical methods. These tools allow us to probe structure-function relationships that guide the development of new synthetic strategies.